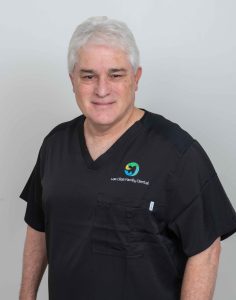 Dr. Dennis S. Sevel graduated dental school in 1981 from the University of Witwatersrand, Johannesburg, South Africa. He was in general practice in Johannesburg from 1981 to 1989. In 1989 he moved to South Florida with his family. He has been in private practice in South Florida for 30 years with offices in South Florida, both in Broward and Dade counties.
Dr. Sevel is a member of the American Dental Association®, the South Florida Dental Association, the Academy of Osseointegration, the International Congress of Oral Implantologists (ICOI). He holds a Mastership with the American Dental Implant Association.
For over 25 years his primary focus and passion has been surgical and prosthetic treatment with dental implants. Dr. Sevel trained under Dr. Jack Hahn who was one of the pioneers of implant dentistry in the USA. Dr. Sevel was among the first Dentists in the country to be certified in a procedure called osseodensification. This innovative procedure is used exclusively in implant dentistry.
Dr. Sevel is committed to providing his patients with the highest level of personalized care while staying in the forefront of new and advanced technologies.
Dr Sevel is an avid swimmer and enjoys exercising and baking. He and his wife, Janet, enjoy spending time with their children and grandchildren.
Jose Antonio Alfonso, DMD
Dr. Jose Antonio Alfonso is a genuine, humble, well-trained and enthusiastic dentist. He is proud of connecting with his patients and been able to provide with modern technology and up-to-date techniques, with highly functional and aesthetics solutions.
He was born in Cuba and is a third-generation dentist, earning his degree in 2012. Soon after, he started training in surgical and aesthetic procedures to rehabilitate and restore confidence and health to his patients.
Dr. Alfonso earned the degree of Doctor in Dental Medicine for the second time at Rutgers School of Dental Medicine, New Jersey. He has completed more than 200 hours of continuing education courses towards mastering full mouth rehabilitation. Today he is a Fellow of the American Academy of Implant Prosthodontics and fellow of the ICOI (International Congress of Oral Implantologists).
Spending time with his fiancée, Dr. Guerra, and his family and friends is priceless. He also believes that treating patients as if they were family brings joy to the soul. Dr. Alfonso loves to play basketball and paddle boarding as a hobby. He also loves dancing, however, he is not as good as he thinks he is.
Dr. Alfonso intends to create strong bonds with his patients, and to improve their quality of life through a clean, modern and unique dental care.